118 Powerful E-commerce Shopify Marketing Strategies To Grow Your Shopify Store in 2021
Here are 118 ways for Shopify store marketing in 2021, I will share some personal experiences of implementing these ideas, business tips as well as many other ideas on how to market to drive more traffic to your E-commerce store.    Bookmark this page (I would love it if you shared it on social media or with groups of people looking for Shopify or E-commerce marketing ideas).
How To Approach This List
Step 1 – Bookmark this page and treat the list as a buffet of ideas.   Not all will work for your business.
Step 2 – Choose a few ideas you think would work on your E-commerce store and implement them.  If they are easy one-time efforts, do it (Examples – 1, 12, 13, 51, 75, 81).
Step 3 – Always be tracking analytics and be testing and see what works for you.   
Step. 4 – Find the ones that work and become very good at them and keep scaling on those few marketing ideas.  Become a master at doing them.
Step 5 – Keep trying new Shopify marketing ideas and repeat Steps 1 to 4.
The best Shopify marketing ideas I have ever had were just testing out things that were not normal and then tracking and being very good at the ones that showed potential.
1. Submit to Shopify Directory (Online Shopping Directory)
Add your Shopify store to an online shipping directory such as this one – Shopify Store Directory.  It will only take two minutes to submit it to Submit Shopify Store and this is the easiest way to get the word out about your Shopify Store.   Maybe I am biased, but it is easy and free!
Submit your E-commerce store here – Submit Store (free and takes 2 minutes)
Make sure to fill in all the fields including adding keywords people would search for your store in the tit
2. Translate your store's language and currency into your customer's local language
Adding a translator and currency converter lets your customers see their local language and currency when they visit your Shopify store.  This opens your store up to a wide audience as most people deal only with their local currency.  So speak their language on your website.     Using an app like Translator & Currency Converter Pro will allow people in other languages to advocate for your store.
3. Cross-Promote with other online stores
Cross promoting is when you and another store agree to promote each other's products to both store's customers.   One of the easiest ways to find a customer is to find someone who has already purchased something similar and market to them.   Reach out to other store owners if their customers would be your customer.     You do not want to be competing directly by selling the same product, however, someone who buys a suit will also buy a tie.   Someone who is buying earrings might buy a necklace, too.   Someone who is buying diapers will also buy toys.   
Think about other products that your customer would buy and partner with those stores.
Bonus Business Tip – In the process of doing this, you will meet other business owners who are doing something similar to you You can learn and share great ideas on how to grow your business.     On many occasions, I have mentioned something (for example – analyzing data, business process, product placement, marketing) and a fellow business owner shared a tweak that improved how I was doing it. Some have led to six-figure revenue increases.    I cannot emphasize networking enough, especially with Shopify marketing ideas. The synergy of working with others means you can all achieve more than working alone.
4. Build an email list
Building an email list of possible customers is a great way to sell more products.  You can offer something of real value for free in exchange for adding them to your email list.   Then share something of great value to those customers (such as a blog post like this to help them grow).   If they like your brand and trust you, they are more likely to buy from you.   You should only be genuine in wanting to see your customers succeed and respect what you email them. Otherwise, they will unsubscribe quickly.
To build an email list, you will need to sign up for an email marketing service.  I personally use Aweber, they have a free plan, then as you grow, you can move to a paid plan.  They are not the cheapest, but they are experienced having been around for over 20 years. You can trust them to help you use your list to bring in more sales.   I have used them since 2010, check Aweber out.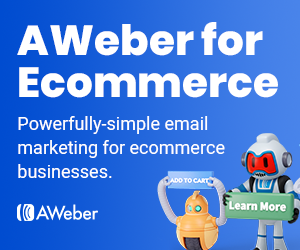 5. Other people's email lists
You can use other people's lists to promote your store's products.   In exchange they may ask for an affiliate fee, a product, or exclusive offers.  They may want you to send an email to your list promoting their products.    Using someone else's email list is a great way to grow your own email list and sell more products.
Before approaching other list owners, find something of value you can offer them that will make them want to promote your product.  Spending some time researching will help you find the best list owners to work with for your Shopify store marketing.
6. Build a relationship with industry experts
People who are well known in your industry are great people to know.  They may not be selling products, but are involved in another way.    Having a good relationship with them can be priceless. When someone comes to them and is looking for your product, you want to be the goto person they suggest in your market..   You can help these relationships by adding value. Helping others will encourage them to help you.
This is an underutilized approach. It is lonely at the top so it is much easier to reach people who are experts than people think.    It is really in how you approach it.    Are you emailing them and saying "hey sell your list on my skiing goggles" or are you saying "I noticed you wrote about skiing and eye protection, have you considered Method A, B and C", those methods are features your Ski goggles offer.   Get in the conversation and share value and that may open the conversation to your product.  Build the relationship first.    When you have a good product and someone they know needs it, which store will they refer people to?
7. Shopping Apps
There are many shopping apps available.  Some serve as marketplaces and others are specific to a niche.     Some of these are part of a bigger retail store or platform (Instagram included Shops which does the same thing as a shopping app).   Check and see if your products are a good fit for one of these apps. 
Shopping apps can do well for a few other reasons including getting your brand more exposure or as a loss leader. That's when you collect people's information and then sell them more products on the backend.
8. Affiliate Program
An affiliate program is when you pay someone a commission on each sale they make.    This can be influencers, bloggers, or other store owners.    Adding an affiliate program to your Shopify store can be a huge incentive for others to promote your store.    If you want this to work, you will need to invest the time to set it up properly including making it as easy as possible for others to promote your store.
You should set up many different banners/graphic options, pre-written emails, and other sales materials. Therefore it is easy for them to promote your store.     As you start building your affiliate program, 5% of your affiliates will produce 95% of your results.   Work with the affiliates that have high traffic and bring a lot of clicks to your store.
Bonus Business Tip – When someone asks for something, see if you can offer it to everyone.   Someone asked if we can make their  Shopify Store translate automatically when a customer arrives.   We added that option for all store owners with Translator & Currency Converter Pro
9. Customers as affiliates
Once you have an affiliate program set up, you can use your customers to share and earn.      You can set up a program and share any l communications about your program. Include an email signature about your affiliate program on all emails.  If a customer has used your product and loves it, they are your best advocates.  And if they can make money promoting your products, that's even better. 
10. Blogs/Partners as affiliates
Affiliates can often be industry or informational blogs that want to monetize their website.   Work with them as much as you can to be their source for your product.     If your affiliate is an industry blog, you can ask them for special placement. You may need to offer a better affiliate commission.     
Keep in mind that not all affiliates are the same.  Some may want to send you traffic and get paid, while others want a relationship.    Don't force a relationship (which means more time by them) if that is not what they want.  I have stopped promoting products when the ROI was not worth the time I had to spend on communication.   If I can place your product  (that my customers would love) on my website and it drives sales, I don't need to jump on a skype call each time to say hi.  The opposite can be true for other affiliates.  Understand the relationship they want and be there for them on that level.   Do not feel you need to jump on a call with everyone who is making you money.
11. Throw holiday and special day sales
The biggest holiday sales of the year are Black Friday and Cyber Monday.    Offer a sale or share incentives on different holidays from Valentines, Easter, Independence Day, Christmas and more.   
I talked earlier about repurposing assets.   When setting up these sales, set up your graphics and content in a way that it can be used each year.   Just like you put the same Christmas tree or lights up each year, it will be minimal work to put the same sales up.   
If you look at the sales major retail box stores have, it ends up being the same sale each year with slight variations. At Walmart Canada  TV sales are always RCA TV and the deals are similar.  Set up your systems so that you can offer these sales on each holiday season.
12. Ask for reviews
Ask your customers for reviews so you can share social proof.   Online reviews are a high-value currency right now but it takes a lot of work to build.  If you are liking this list of ways to market your Shopify store, please reach out and let me know, I would be happy to hear from you.    Reviews are one of the most valuable online currencies these days.  People buy products every day because of social proof. 
Getting reviews is a lot of work, but something you must focus on to build your business.   I may receive 1 review for every 50 customers I ask, even if I have a great product people love.   
13. Facebook Page
A Facebook page is when you have a page dedicated to your Shopify Store on Facebook.   Your audience is probably on Facebook so it's a good way for them to find you.
This is a great way to keep in touch with existing customers and makes it easier for them to share your content with friends and family.    Sharing valuable content that your users can share will help you drive more social media traffic.
14. Facebook Shop
A Facebook shop is when your products are on your Facebook page.   You can set up a Facebook Shop to sell your products directly from your page.    Your customers on Facebook can easily share your product to create a more seamless experience using Shopify create tools. 
15. Facebook groups
Facebook groups are groups of like-minded people.   Sharing your expertise around your product on Facebook groups in your industry is a huge way to grow your business.    Share posts where you give value to your users and build your reputation as an expert around your product.  Do not just try to sell, sell, sell.   Another benefit is that in conversations you may learn new ways your product helps people leading to more markets you can sell to. 
16 Facebook lives
Facebook live is when you host a live video on your Facebook page.   Host a Facebook live, when you get a new product on your store, or do a launch party for the product to show it off.   
When you create content like this, you can then reuse this content on YouTube and other video sites.   Make sure the videos show-off what you are trying to do, but are also viewed as valuable after the Facebook live.
17. Facebook Stories
Facebook stories are a fun way to share short term events because they only stay up for 24 hours.    If you are doing a sale or office birthday party and only want it up for a short time stories are the best way sinceuture customers will not see the story.      It is great to engage existing Facebook followers in your group.
This is a great feature for something that is only there for a short time. For information you want to share for a longer time, use a regular post, not a story.     
18. Facebook Ads
Facebook Ads is when you pay for ads on Facebook.   It may be one of the best ways to reach your exact customers. However, only do this if you're willing to put in the effort to track your results.  You need to be prepared to tweak and test continuously.    To make it work requires constantly testing your text and images. You'll need to boost posts and analyze them carefully to optimize your results. You need to know your cost to obtain a new customer.
19. Facebook influencer
Reach out to Facebook influencers and ask them to promote your product.   You can offer them your product or give an exclusive price or discount to their audience in exchange for exposure to your Shopify store.
They may ask you to pay a fee. You need to know how many followers they have and your ROI on your customers.     Always track your post when you're paying someone to share your store.   This is the only way to know if it is worthwhile to do again. This applies to any paid method.   You must pay attention to your numbers to see if your results are worth the cost.
20. Facebook Contest
Having a contest on Facebook is a great way to build awareness of your Facebook Page.      Ask people to like and share your Facebook page to enter.    This helps your page get more likes which means more people will see future posts. 
I have also done Facebook contests in groups when I give away my product.  This helps people in that group know about your product.  You can ask the organizer if you can put up a banner or pin announcements.   I would not make it a sales pitch, but more brand awareness.      Most organizers like fun ways to keep their group engaged.
21. YouTube Channel
YouTube is king when it comes to video and it's also one of the world's biggest search engines.   If you have any videos about your product, you should have a Youtube channel.    If you do not, create a channel sharing videos about your products including how to use them and showing how the customer benefits by owning your product. 

22. YouTube Marketing
A plan for Shopify marketing your products on YouTube can bring a lot of people to your store.  YouTube is one of the world's biggest search engines and people are looking for reviews on products.   Optimize using keywords and market to your potential customers.
If you do not see many competitors on YouTube, then you should move fast to dominate the industry.  Do not hold back on your Shopify Marketing.     Remember that Youtube users search to find your video, so make sure you are optimizing your videos for how your customer would look for your product.
23. YouTube influencers
Youtube influencers are people who have a huge following on their Youtube channel. When they post a video, people will go and check it out.  Reach out to YouTube influencers and ask them to review your product.    You may want to send them your product or you can offer the product or a special price exclusive to their audience.
24. Start a blog
Start a blog on your website to share information about your product, industry or what people would search for on Google to find your product or industry.   It is important to think like the user that is searching for what you are offering in your Shopify store.
My product is a Shopify app (Translator & Currency Converter Pro) for Shopify stores which I will use as an example.  Sharing valuable blog posts for Shopify store owners can help drive traffic to my blog where I can share my service and store owners understand that I care for their success.   
25. Instagram
Share your products and unique pictures of your store's products on Instagram.  Make sure you use hashtags to help bring an audience.   You can also try to cross-promote with industry influencers to help build a following.
26. Instagram Stories
Instagram stories is like Facebook stories. They only stay up for 24 hours.   When you share content on one site, you can use that same content like sales, birthday parties or other fun shares that you want  to show for a short time on both. 
27. Instagram Shop
You can sell your product on Instagram Shop which they have a tab for at the bottom of the app.     
You do not have to recreate the products, you can integrate them directly with your Shopify store.   The customer will be brought back to your store to make the purchase.
You can also connect your account to your Facebook Business Manager account, however using the Shopify integration would lead customers directly to your store.
28. Instagram Ads
Instagram offers sponsored posts (ads you pay for) just like all other social media platforms.     Just like all paid advertisements, you must optimize and tweak your ads for better performance.
29. Instagram influencers
Instagram is full of influencers and having one of them show off your product for a fee can help drive more people to your Shopify Store.
Having the right influencer pushing the right product can help introduce a lot more customers to your brand.    When I did this, I tracked the response on each influencer to know who was performing and who was not.     
Tracking influencer's results helps you target which influencers perform better for your product.    It is a must for this E-commerce marketing method to drive customers to your Shopify store.
30. Pinterest
Pinterest boards are a great way to show off photos of your product.   You can create fun pins on Pinterest boards with your Shopify store.    Show creative ways people are using your product.   
31. Pinterest – Buyable Pins
This is Pinterest paid pins (paid ads).   This will make sure that users on Pinterest see your product.   
A really neat part of buyable pins is that they let you put a direct buy product button to make it easier for people to buy your product.
32. Start a podcast
Podcasts are audio recordings and they are very popular.  You can become a product expert and share knowledge of your industry and products.    You can also bring in other people to share their knowledge and ask them to share your podcast with their audience.
You can distribute your podcast to major platforms like Apple Podcast (formerly iTunes), Google Podcasts, Spotify, Stitcher, TuneIn,
33. Create an infographic or shareable graphic
An infographic is sharing information in a visual format.   You can create an infographic around your products.    I created
one for my Shopify app – Translate & Currency Converter Pro.   I then created a blog post about it and shared it on Social Media (Facebook, Twitter, LinkedIn), emailed my list and added it to my email sequence.   

34. Twitter
Create a Twitter account and tweet about your products and updates.  Share sales and special news.  Your potential customers are looking on Twitter for you.    Encourage existing customers to follow you and share your posts.
35. Promote Tweets
Promoted tweets are paying to have your tweet show up on Twitter.   You can use promoted tweets to get the word out about your product to a larger audience or reengage with your existing audience.   Again always test and tweak to make sure you are getting the best results.
36. Press Release
A press release is a way to get your story in front of the media.   If you have big news, you should write a press release and share it on new products on major updates.   There are many free or cheap press release sites out there.  But you must have a newsworthy story, not just a sales pitch.
A great side effect of a press release gone viral is that it will also have an impact on your website's link building which helps SEO naturally.   You can have thousands of sites linking back to your Shopify store.
37. Upsell to existing customers
You can also sell to your existing customers.   One of the worst things you can do is have a one time sale and never talk to that customer again.   Create great value and share specials with your customers.  You have worked very hard to get that one customer, therefore you should work on increasing the value per customer.
I cannot stress this point enough.  It is easier to create more money from an existing customer than go out and get a new customer from your E-commerce marketing efforts.
38. Cross-Promote with offline stores
Approach brick and mortar stores and let them know about your selection and what you can offer.   Your store may be able to offer more selections.   If they are not able to fill a customer's request, you can help their customer.   In return if a customer of yours needs something they have, always return the favor and send them customers, as well.     You can do this with competing or complementary products.      I have referred people to other competitors when I cannot fill the service, it is better customer service then saying no to a customer.   
39. Cross-Promote with websites in your industry
Approach other websites in your industry. Experts who do not sell products can help drive traffic to you.   Talk to them about a partnership between your Shopify store and their website.   Some ideas on how you can partner include sharing your products, writing content or doing a guest interview.     
40. Reward your customers
You should always take care of your paying customers.   Thank them and make them feel appreciated.    When I created Shopify Store Directory those were the customers I added first.    I really want my customers to succeed with their business and grow.    Rewarding and talking to your customers will help you have a conversation on how you can make your Shopify store better and they can advocate for you since you are listening to them.
41. Build a customer email list
You should be building your email list of customers who purchased from you.    You should also reward those customers who have purchased and are loyal.    Offer them special prices, referral bonus ($10 off for you and a friend).     They can help you market and promote your Shopify store's products. 
42. Email – cold call emails
A cold call email is emailing someone who you have no relationship with but want to build one.   You can send out cold emails to possible customers who may be a fit for your product demographic.   I would expect the response rate to be very low with this method. Much lower than a warm email lead.     In my experience, if you share something of great value to help them reach their goals, you will get a 10X better response than just sharing your product.     It is better to do this as a 2 step process where you first help them with what they want and then share your product in the process.
43. Email your lists to share your new or existing products.
Make sure to share new products or recommendations on a regular basis.  You can also share an email ahead of time to let your customers know about a new product that is coming to your Shopify Store.
44. Email signatures with products or sales
Include products you want to sell in your email signature and all customer support email.    This is a great opportunity to share additional products you want to sell.  You can share special promotions or upcoming products with everyone that your company emails.      
One great way is to get them to sign up to your email list in return for special offers.   If they are inviting you to share your offers, then the quality of the email address is higher.
45. Email sequence to existing customers
You should send emails to your customer on a regular basis.  You can set this up once and it will automatically send a sequence.   Once a customer has purchased, this is not the end of the relationship, it is the start.  Setting up an email sequence sharing value with your customers can help them trust you.  Do not be surprised if you receive an email from me trying to add value to your business.
46. Share other's content
You can share your content, but it is also a good idea to share other's content on social media, emails, blogs and other ways we have discussed.     Share news in the industry or something exciting going on in the world around your product.  This helps get people engaged and interested in what you are saying.   Once they are engaged you can also share your Shopify store products.
47. Friends and family
Talking to your friends and family and sharing about your online store can be a great way to spread the word..    You never know which one may be interested in your products or have a connection that can help you get the word out and boost sales.   We live in a world where a lot of people are trying to grab our attention.  Your friends and family will remove one of the biggest barriers which is getting someone's attention, they will listen to you since they trust you.    The next time someone needs what you have to offer, who do you think they will refer them to?
48. Store Contest
Throw a contest on your store and offer an incentive for sharing the contest with others.   The contest can be for product prizes that you can show off in the contest and encourage people to use social media to help make this contest go viral.
You can also build up your email list of potential customers that you can promote other sales and new products to afterwards.
49. Reddit Marketing For Shopify Stores
Reddit is a site you should consider but the approach will  be very different than n other social media websites.   Reddit has a huge community of people who love to discuss products/services and many other topics.     Posting on reddit and just expecting them to come won't drive you traffic.  You need to engage with others who can help you and build relationships and share valuable information with the community. 
When using Reddit, make sure you understand the subreddits covering over 100,000 topics and how to reach your customer from the millions of Reddit users.
50. Reddit Ads
Reddit offers paid advertisements as well.     The great part of Reddit is that communities are divided up into niches, so reaching a niche market can be easier.     Once again, make sure you know your numbers and optimize your Reddit posts.     If you find you cannot reach your audience, then just move on.
51. Quora – Answer questions
Quora is a question/answer website where people go to find answers.  Answering questions about your product or how it can help people can drive traffic to your store.   On Quora you can optimize your profile to be perceived as an industry expert very quickly.   Quora does require that your answer be valuable or it will collapse your answer for less exposure.   
My approach would be to have a solid answer where your product is the solution (the longer the better) and then find people asking the questions about it and tweak your answer to fit the question.  Do not just copy/paste the answer, address the person's question directly.   
52. Quora Advertising
Quora also offers paid advertisements.   If you find that your text on an answer is bringing you great results, then consider paid advertising to scale your sales for more customers.
53. Hashtags
Hashtags are the words you see at the end of a post or tweet that start with #, for example #shopifymarketing.  You should be using hashtags in all your social media posts (Twitter, Instagram, Facebook, Pinterest or LinkedIn).    This used to be more effective before but now each platform has its own strategy.   When using hashtags figure out how to best use it for each social media outlet.
54. Attend Industry conferences
Industry conferences are where people in your industry meet to gain knowledge and network.   Attending conferences and meeting people in person can give you an edge up in your industry.   You can meet people to partner with or help get the word out about your products.   
When attending these events, the actual event is during the day, however the evening gatherings and networking can be just as valuable if not more so to grow relationships and connect.    Being in the online world, we see people a lot less, so this can be very useful for your Shopify store.
55. Look for a Shopify marketing case study on similar products
A Shopify marketing case study is where someone looks at the marketing that was done to reach a successful result.    Look for Shopify marketing case studies done on how to market products similar to yours.     These usually share step by step how someone marketed a product or service and had success.  Learn how they create their Shopify marketing steps and see what you can use.
Consider looking at market case studies in other markets and if you can duplicate what they have done in your market.   This may not always work, however it can give you ideas on ways to promote your product.
56. Google Business Listing (needs physical listing)
A Google business listing is when you use Google Maps and a business shows up, that is done through Google listings.   If you have a physical location, you can create a Google Business Listing.   The location does not have to be a store front or open to the public.      Adding your store to the Google business listing and optimizing it for keywords, pictures and more, you can drive local traffic.    You can get a local mail box like a UPS box and set this up.
Using this strategy I got about 3,000 views on my Google listing page for an online business which was great, free exposure. 
57. Video Sites
Post your videos on video sites other than YouTube.   YouTube is by far the biggest video site, however if you have already created the videos, it takes very little  work to post on other sites to get more customers.    Some video sites are more niche (Example Ted is for more educational conversations).   Find markets that relate to  your video.
Some video sites you may be able to share your video on include Daily Motion, Vimeo, Metacafe, Veoh, Ted, Vidmax, Flickr, Teacher Tube or more. 
58. Banner Ads
Banner ads are the graphics you see on the top of web pages.   Banner ads are one of the oldest ways of online marketing, however still very effective when in front of the right audience.   Especially if you can partner on websites that get a lot of traffic like blogs or informational websites.     Approach websites that get a lot of your targeted audience and make arrangements to promote your product.    If they ask for money, I would make sure you know their numbers of visitors.   
59. Google Ads
Google Ads are the ads you see at the top of Google and they have a network of ads on websites and gmail.   Google Ads can be a great paid way to drive traffic.   Google Ads can help you target specific customers and reach them faster.   
Have you ever noticed how once you go to a website, you then see ads in your gmail or when surfing online about that product.   Google Ads can help remind your customers of your Shopify store.
60. Flyers
Creating flyers and posting offline can be an easy old school way of Shopify marketing to get more visitors.   You have already created the design work for online, so repurposing it for creating an offline flyer can help you reach more people.
Bonus Business Tip – Reusing your efforts is a huge help in Shopify marketing.  If you have created digital content like graphics, videos, text etc…always look at ways to repurpose the same material in a different format.   Do not be surprised if you see shorter lists that are more niche derived from this long list of ways to market your Shopify Store.   It requires a lot less work.
61. Business Cards
Share your business card with every person you meet.     When they are looking for your product or someone asks them, this reminds them that you are an option and they have your information easily available to them.     
Someone asked the other day if I knew a place that offered a service, I said yes — I got their business card, and said – here is the info you need.     This still works especially since your competitors are likely not thinking offline referrals.    
62. Sponsor online events
A sponsor is someone who pays a fee to help with the costs or profits for an event in exchange for advertising about their business.   Sponsoring online events is another great way to build brand exposure.    It is good to make sure that the event's customers are your ideal customer as tracking the results on this may not be possible.     Sponsoring events for Shopify marketing your Shopify store is more about building your brands credibility not direct sales of your product.   I would consider this once you have exhausted all the free methods mentioned.
63. Coupon sites
Coupon sites offer coupons or sales at online and offline stores.  When you have a sale or deal, approach coupon sites and have them list your deal to bring more exposure to your store. 
The customers you will get from a coupon site, should be treated as people who want sales.   They likely won't buy your full-price products, however when you have a special promo, they are the ones you want to inform.   Make sure you have a Shopify marketing strategy in place when targeting this audience.     For example when they come to you, get them on an email list offering a promo each month for the next 12 months.   They love a deal. I have to confess, I am one of them. 
64. Document Site
Document sites are places where you can post PDF files or documents on any topic.     Document sites are often thought of as a way to bring traffic by sharing your knowledge in writing.  They rank high in Google and often allow links back to your website.  Whenever you post content or create how-to instructions on other places, you can always repurpose the same content for a document website.   This is a great part of an SEO strategy to dominate your industry on search engines.
Bonus Business Tip  – When creating documents on any online content, always brand your content.  Your documents, videos or anything you post may be taken and shared onto other sites.   Therefore it is important that you brand your content with links and your logo.  I have seen other people take my content for a deal site and in the process they marketed my brand.
You can use the document or instruction sites like Issuu, Edocr, Instructable, Jumpshare, Hightail or Slide Share.
65. Blogs (Medium, Blogger, WordPress)
Consider creating content on third-party blog websites.  These are blog posts not hosted on your own website.      Posting on these websitescan give you some SEO juice to get the word out.  This traffic is also more valued since people will land here searching for what your Shopify store has to offer.    It is easy to post the same content on all these sites, however that would not help you dominate your market.  Change up the content, so it is unique.
You can use blog sites like Medium, Hubpage, Wix, Weebly, Blogspot, Webnode, Strikingly, Jigsy, Evernote or WordPress
66. Guest blogging
Guess blogging is writing content on someone else's blog.   You can reach out to other blogs or websites in your category and ask them if you can write a post on their blog.   Research their current blog posts and see what you can share that would be a good fit for their audience. 
As I am writing this, I am currently talking with Shopify about writing a guest blog post.  I already wrote out the post and shared it with them.    If they choose not to use the post, then I can use it as a guest blog, on another blogging site or social media..
67. Free samples
Offering a sample of your product can be a great way for people to see what you are offering.   We are not all Amazon and cannot afford to lose money on each customer for years, so this strategy would need to be well planned out. 
One free sample strategy can be to offer existing customers different free samples products.  They have purchased from you, you are taking the profits and reinvesting to build a relationship with that customer.   Another idea would be to offer a free sample on the next purchase, this saves on shipping. 
68. Rewards program
A reward program is offering your customers something in exchange for sending you referrals.   This can be a discount or a reward program where they earn more points as they refer customers.  Everyone loves a good rewards program. Add extra perks like 10% off on their birthday or a free item on their first referral.   
69. Daily Deal (Groupon)
A lot of offers on Daily Deal sites like Groupon have moved to online deals.  Offering your product at a reduced price can be a great way to get leads.   This may not be your money maker, however you are growing your email list to sell more of your products.    You know that these people love a good deal.
With customers you get from a deal site, just like coupon sites, are not going to pay full price, however they are the ones you should reach out to when you have sales.  This Shopify store marketing method should never be used to get full-price paying customers once they like your product.
70. Webinars
You can host a webinar sharing information about your industry and how your product may be a good fit for potential customers.   This is a great way to build credibility and content you can share.   You can ask others to share your webinar (use affiliates or referrals for an incentive).    
Once you have completed a webinar, make sure you repurpose the content for other Shopify marketing methods.
71. How-To Videos
A How-To video shows a person how to do something.  Creating how-to videos shows your product off and gets high-quality leads.     You have a customer who is looking for a product like yours and you can show them how your product can be part of the solution to their problem in the How-To video.       
This may not apply to all businesses as selling your brand of shirts may not be the solution. However creating a video showing off the benefits to a customer (comfortable, casual, sexy or just cool) can work.   You would need to be creative about how to incorporate your brand.    I have had millions of high-quality leads creating these types of videos.
72. Video trailer
A Video trailer is a short video advertising your product and the features it offers.  Create a video trailer for your Shopify store or your product and have the features or show someone using your product. 
Video trailer videos can be lower budget, from Fiverr, or higher budget ones.    I would suggest waiting before you spend a lot of money until it is proven that you will get a return on the investment.
Here is an example of a video trailer.
https://www.youtube.com/watch?v=r3Fyi35bkQM&feature=emb_logo
73. Direct mail
Send a physical letter to your customer.    Living in a digital age, you can really stand out by sharing a physical letter.  You can send a holiday card updating your customers on what you are doing.   There are services that can send out a physical card for you. 
I made a referral to a lawyer seven years after I used him.  Every Christmas he sent a physical card and shared an update on how things were going with him and his family.   When someone asked me if I knew a lawyer who could help them, I remembered him and the great service from many years earlier, all because he sent out a physical card each Christmas.
You may also consider segmenting your customers by how much they spend or how valuable they are and send the top customers a gift with the card.
74. LinkedIn
LinkedIn is a business social media website.    If you are not on LinkedIn, you should create a profile even if you do not use it.  Optimize your profile for your Shopify store and be the expert for your products.    Adding your title and your credentials is important to help others find you. 
You can also build your network on LinkedIn, by finding people in your industry or market.    This is one of the best ways to connect with other business people.
75. Company LinkedIn Page
Create a company page on LinkedIn.   You should have a company page on each major social media site even if you do not post on it.   When someone wants to know about you or how big your brand is, they will go to your company page.     I do this all the time, to see if a company is legit, I check their LinkedIn company page.  We get people visiting ours all the time – https://www.linkedin.com/company/ebizlisting/.   You should hire someone to link your page and optimize the design to make it look professional.   You can share content and updates on your Linkedin page.
76. LinkedIn groups
LinkedIn groups are a great way to meet other people and share about your product.   It is not as popular as Facebook groups yet, however I think it will be in the future.   So setting up early in these groups can work.
77. Linked In Articles
LinkedIn Articles is a place on LinkedIn where you can share written content.   Sharing your content there is another avenue to repurpose and share content.    I will likely post some version of this post on LinkedIn Articles since it is additional exposure.      This is an underused tool that LinkedIn offers, therefore I think you can get people to see your articles a lot easier now than in the future.    I see traffic coming to my product from my LinkedIn articles.
78. LinkedIn Ads
LinkedIn offers paid advertising, as well.   It is not as effective as Facebook for Shopify stores, however, they do give you $100 USD free credit, so it may be worth trying.    With any paid ads, you will need to monitor and optimize your ads to see the results.     
I found LinkedIn Ads to be more expensive and less effective, but that can vary from business to business, so with $100 USD free credit, it is worth testing to find out if this is a worthwhile Shopify store marketing method.
79. Send product to celebrities
Send your product to a celebrity for them to use.  Especially one that uses social media a lot and can reach your target audience.      People love receiving free stuff. I would be fun and creative on how you approach it as popular social media users are always looking for fun content for their users.    Research the person you are sending it to and try to deliver it in a way they will get excited about.   
If they use your product, be ready to collect emails and leverage social media to help you build traffic to your store.   If you are driving traffic and not collecting their information it is a crime in building your business.
80. Local news stories
Reach out to local news media and see if they will give you coverage on what you are doing.    If you are changing the world or donating proceeds or doing something interesting, make sure to share it with them.
They may ask to meet with you and do a video.  I had that happen with a local Toy Drive I run. The first year I put my son on the evening news (people love kids), but last year I had to go on myself.   This is a personal story, however the same concept can apply to business.     I did not care to be on the evening news, I just wanted to collect toys for kids who need it as many of us are very fortunate.  So be ready to step outside your comfort zone if asked. 
81. Amazing customer service
One of the best ways to grow your business is with amazing customer support.    Let your customers share about your product and online store.   People talk about great experiences they have online and great support can create customers who advocate your products.
82. Online news stories
Share your story with online blogs or industry experts.     News outlets are always looking for interesting products and stories.       Just like local news stories they may want to know more about the person behind the product as well.
You will get people reaching out for paid news coverage.   My rule of thumb is that if ads are not covering the bills for that news outlet, they likely are not getting enough traffic to be worth it.    I don't pay for covering stories, but I'm happy to provide content.   These fees are sometimes not mentioned until later, I one time had them ask for a $3500 production fee in a hidden line.   By now you can tell that I prefer not to pay for Shopify marketing. Be diligent when spending and I do not think this one is worth the investment.
83. Reach out to bloggers
A blogger is someone who writes online on different topics, usually they specialize in one particular niche.   Do the research and find out who has covered similar products before and reach out to them to see if they would review your product.     Make it clear about why they should cover your products and what makes you special.     Bloggers are always looking for interesting content to write about.
Please remember that they are people, too.  So building that relationship can go a long way for both of you.     You could possibly start by them blogging about your product. Or ask if you can do a guest blog post or affiliate marketing.  Partnering with the right bloggers can bring a flood of high-quality new users to your website.
84. SEO your store
Search engine optimization is preparing your store so it's easy for search engines to find you.   SEO can be broken down into 2 parts – onsite SEO and offsite SEO.    Onsite should be optimized for each product making it easy for search engines to find you.     If you follow a lot of these strategies then your offsite SEO will be done automatically.     Good SEO does take time (9 months to a year) and in my experience doing a lot of the free guerilla marketing methods I've shared will build up your SEO combined with a one time optimization of your page.   You should always analyze what is working for you.   
Focusing on offsite SEO and just doing all the other methods mentioned builds natural SEO and can work better.   This is a big part of how I had previously driven 200,000 visitors a month of organic traffic to my e-commerce store.35% (70,000) of the visitors came through the Google search engine.
85. HARO
Help A Reporter Out (HARO) connects media with people in the industry who are looking for an industry expert.   They send daily emails sharing what the media is looking for and if you are that person, you can get in touch.    I have found that it has expanded beyond media people looking for experts.   This is a great way to get connected with the media people who are specifically looking for what you have to offer and in return help your Shopify store marketing.   
86. Guess speaker on a podcast
Podcasts are audio recordings and they are very popular.   Podcast hosts are often looking for guests or content to share.   Reach out to ones in your industry and see if there is an opportunity for you as an industry expert.     This also helps build your brand and profile.
Once you have done a few guest interviews, compile the audio files and share them when approaching podcasts (or any media). Share this ahead of time, so they know that you know your stuff and that you would be a great person to share industry knowledge.      
87. SMS marketing
SMS marketing is reaching out to people by text that may want your product. Mobile is growing every day for ecommerce and reaching users on their phone can help build a seamless experience to get someone to your store.     Do not use this to spam everyone's phone as you may upset people and turn them off your products.
SMS is also an easy way to reengage customers by taking them to social media, an app or your store.    Ask them to share a contest or sale by clicking a link.  Make it super easy for the person to do on mobile and this can help you drive more traffic.
88. Video testimonials
A Video testimonial is a review on video.   Ask customers for video testimonials.  Building social proof is huge in helping build trust.  You can always use this with your social media and other content.    The best videos would be with a customer using and talking about your product.    You may need to ask hundreds of happy customers before you will get someone who will do this.   
89. Wiki-How
Wiki how is a question/answer website just like Quora.    Answer questions and show yourself as an industry expert.      When posting on Wiki-How these posts stay there forever and search engines pick them up.  Make sure you are optimizing for keywords and creating graphics. This willbuild trust and get traffic.
90. Product hunt
Product Hunt is a great place to share your product.   People are looking for exciting and innovative products all the time here.  If you have something unique or special, you should post it on Product Hunt.   There is a voting system where people can vote for your product.   I would suggest reading up on Shopify marketing strategies on Product Hunt before you post. Optimizing your post can help a lot.
91. Vendors Market
You can look at creating a physical presence by having a stall at a vendor's market, trade-show or kiosk.      This is an amazing learning opportunity to see what people really think of your product.   You can talk alk to people and see how they interact with your products while driving more traffic.    You can also use these in-person opportunities to get video reviews.   
92. Ask a

 

store to carry your product
You can always consider having a store carry your product.    This helps you serve both online and offline markets who would be interested in your product.      
A retail store can also serve as a location for customers interested in your online product to pick it up or see your product in person.    Not everyone is comfortable with online purchases yet and this is a great way to purchase in person first. They would then be more comfortable making their next purchase online.      
93. Viral marketing
Create content that can go viral.   This is a craft that will take many attempts and you may never know why something succeeded and went viral.   You may have to create many pieces of content before you get something that will catch on to get your Shopify store marketing to work.    When you get something that goes viral, make sure to use social media to help it grow and create likes, subscribers and add possible customers to your email list so you can reach out to this audience again.      
Even Psy didn't create the second Gangnum Style, though he tried.  He did leverage the opportunity very well on the first one.   
94. Make an app
You can create a mobile app for iOS or Android for your store.   These are some of the biggest search engines in the world and you can set notifications to reach your customer directly.     
When creating an app look for a templated app unless you are doing something unique.    This will make creating an app much more cost-effective. If you use a template, you will need to switch out the design and add your products. 
95. Online department store
You can add your product to online department stores.    There are many physical stores that have been around for a long time and are now coming online. Some like Walmart or The Hudson Bay (in Canada) let third party stores add their own product.    You can also find stores that specialize in products like what you have to offer.   Adding your products to these stores is a great way to get exposure.
96. Video review of your product from an influencer
Having a social media influencer demo and review your product can bring in a burst of sales.    They will likely charge you a fee or you can ask for them to take a % from each sale (be an affiliate).      They have built trust with their audience who listen to them, so seeing your product in their hands can help boost sales.    The influencer cares about the image of their brand and they'll want to be sure your product is the right fit., Make sure to position your conversation on how your product aligns with what the influencer stands for and why your product is right for their audience. 
97. Video review of your product from industry expert
Having an expert in your industry review your product can help.     You would have to build the relationship and show them why your product is great for them to review.  Experts won't just promote anything, but if they believe in your product and you can make it worthwhile for them, it can bring in more customers to your Shopify store.
98. Blog about other products
On your blog share about other products from other stores.   This can help build relationships and in return you can ask them to social share the post which will bring traffic to your blog post.    Again make sure you capture the visitors information, so you can share more value and your products with them.
If they have an affiliate program, you can always join it and make some extra income (you should join it, why would you not join it), however you should not promote a product that you do not believe in.   I share Aweber which I love and have used for over 10 years, but if I suggest it and they have an affiliate program, I am going to take the commission.    The only reason not to join it is that you have a relationship with that product and maybe make other arrangements like a special or promo of products. 
99. Blog about the features of your product
Create a blog post explaining  your product's benefits.   Show people what they can do with your product and how they will benefit from it.   When writing, keep the reader in mind and make sure to let them see the benefits (not just the  features).
If I told you that I want you to submit your store to this Online Shopping Directory you would likely do it.  It takes 2 minutes and you can gain more traffic on your Shopify store.  I am giving you something of value – free exposure for your Shopify store so it's a no brainer.
I started a Shopify Store Directory since I really wanted to reward customers of Translator & Currency Converter Pro by bringing them more customers and for Mokool Apps to brand to possible customers.  Then I decided to open it up  to allow  all Shopify stores to join the directory.   You would not care as much or be interested to submit your store based on my reasons.    Both are true, however the benefit is what matters.  The benefit for a Shopify store owner is a no-brainer — fill out the form and get more exposure.
I am selling by  adding real value and benefits to your store, not boring you with my reasons..   Now go and add your store to the directory if you have not, it is easy, free and creates more exposure. 
100. Online classified sites
Online classifieds have been around since the start of the internet.      You can get more eyes to your store by posting on Craigslist, Facebook Marketplace or Gumtree.    Make sure to add pictures and detailed text to help optimize your ads.
One common mistake I see is that people do not post links back to their product page.  I would suggest posting a link at the top of the page and at the bottom of the page. 
Bonus Business Tip – I use tracking links in Google Analytics for everything coming to my product page or website.  You can learn more about that at Google URL Builder
101. Be known as the source
When someone needs your product, be "that guy" or "that girl.  Find other online and offline stores or resources that have asked for products like you offer and let them know you can help.  Be known as the source for delivering and taking care of other's customers.   Make sure to follow-up and thank them if you make a sale.   This small follow-up will likely lead them to send you more people since the first one was a good experience and appreciated.
102. Google top pages – ask them to feature your product
Do a search for your product on google and find out what the top pages are and see if there are opportunities to join their post.    I have found lists of best apps and offered to write up a paragraph that I can put into their post.     Make sure that what you add d flows nicely and is not just a sales pitch.    See if you can dominate the first page of google for someone looking for your product.  You may find directories, question/answer or top lists.   Ask to join them to get more traffic to your Shopify store.     
They make ask you for a fee. The other day I reached out to someone and they said, sure $500 USD to link to you.    I asked them how much traffic and never heard another word.   That is a telling sign that they are just throwing something out in the hopes a naive business looking for traffic will pay.  This can help your Shopify marketing
103. Scope competitions Shopify marketing methods
Check out what your competition Shopify marketing methods are.   Google your competitor's name and see all the places where their product comes up.  You can learn new opportunities where you can market by reverse engineering their marketing efforts.    Also expect your competitors to do the same to you, they will likely scope out your marketing methods.    Hello to any competitors reading this, reach out and let me know if you get some good ideas :).
104. Scope other industries
Checkout what people in other markets are doing and bring the ideas to your market.      You may be the first to present a Shopify marketing method in your industry by using what is common in another industry.   I once did this for an e-commerce store. I did demo how-to videos on my store and got over 6 million views before I told the company.     Once the first video was a success, I made about 40 more videos.   Of course my competitors did come following, so if it works, you really need to bulk up and own the market and get the early bird advantage.   Expect your competitors to follow if something is very lucrative and let's be honest, you would do it too.
105. Analytics and always be split testing
Analytics is tracking where your user comes from and what they do on your store.  You should have analytics and check your data on a regular basis.   If you are not checking your data then none of these Shopify marketing methods matter.      
The formula is simple:
Market your Shopify Store

Track analytics

Split test to improve Shopify marketing

Do more of what works
I cannot emphasize that if you are not tracking your Shopify marketing efforts, there is no point in Shopify marketing.    Focusing on what is working allows you to try less methods and do more of what works.   Many methods will not work and that is part of the process.  Persistence on what is working is key.   
Did I say, always checking your data is critical? 
106. Post Comparisons
Creating comparison posts of your product VS another similar product.   This is great when someone is looking for an alternative to another more well-known product.    You should be fair and not bash the other product.    When I do this, I would compare the two and show the other one is 80% as good and emphasize on what you offer that your competitor does not.    
If you have a high brand name, this can work the opposite for you and you may make possible customers aware of your competitors.    This is a great Shopify store marketing strategy before you have built a brand name for your product.
107. Comment on experts social media posts
Share your comments or insights on social media posts from experts or people who have your following.    Often your product may be a solution to someone else's posts.   You do not want to oversell, instead, add value when commenting on other people's posts.   
Bonus Business Tip – Make sure your profile is optimized to what action you want the customer to take.   If you look at my profile on Facebook, it is very clear what I want to promote – Shopify Apps and a link to learn more.    I keep the personal stuff for Facebook friends since I do not think it would help my business.  People will check out your profile and make an opinion of you.   Are you guiding them to your store or sharing familiar personal pics?   
108. Post-sales on Social Media
Share your deals on social media.    I have mentioned this before, however it is important to have a process for your social media plan.   Whenever you have a sale, make sure to let people know on social media.  You can offer incentives for them to share your sales post. 
Our plan includes creating a tracking link and then posting it on Facebook, Twitter, LinkedIn and sometimes Instagram (content pending). 
109. Post upcoming products on SocialMedia
Share upcoming products on social media.  It is always fun to offer teasers on upcoming products that you will be offering on your store. 
This can also be a great way to build your email list in exchange for letting customers know about your product.
110. Reuse content
I will say it again, always reuse content.  You have learned a lot of ways to market here.   Create a content folder on your computer or in the cloud where you can go to find more content.   I can take this one post and break it up into smaller posts, audio versions, social media posts, blog posts, guess blog posts and many other options.    Reusing content is a great way to build more Shopify marketing material.    I would suggest that you don't copy and paste the exact same post everywhere.  Change about 50% of the content, rewrite and change the order.
Example – I have done a blog post – X ways to use product Z
Next, I create a YouTube video
Next, I take that video and share on other video sites
Next, I post on Facebook, Twitter and LinkedIn about my blog post
Next, I rewrite it and post as a guest blog post on another website
Next, I rewrite it and post it on LinkedIn and Medium
The possibilities to reuse content are endless. 
111. Interview influencers
You can ask an influencer to be a guest on your blog.  They are always looking for ways to build their audience and this will help them build it.  In return you can ask that they share with their social media audience and followers.
They may ask you to be a guest on their show if you have an insightful conversation that their audience loves.   Influencers are people who are looking to build up their business as well.
112. Wear your brand
You can always wear your brand or products when you go out.   This is a great way to show off your products.   Especially if you are doing something unique or very fashionable.     
You can also keep an eye out for social content you can share.   If you see others wearing your brand, ask if you can share that. 
113. Online AKA (Ask Me Anything) as a product expert
Have a webinar or zoom call with your customers and encourage them to invite other customers.   They can ask you anything they want about your products and services.    
Have some questions prepared ahead that would help point people to your product.  Your goal isn't to sell your product, but to show people why they can trust your brand and explain why your products are what they want to buy.
114. Share fun behind the scenes on Social Media
I love seeing behind the scenes footage, they are always fun.  People love to see how things work.  It shows a human side to your business. 
Always stay professional and remember who your target market is and the brand you want to showcase.   Don't show your kids at home and in your office, unless your market finds that attractive. Keep it off social media.   Share something like a birthday party or team-building exercise showing you are real people too.
115. Joint Ventures
Partner with others for mutually beneficial relationships.   Joint ventures are where two people partner so both can gain in their business.
For example, if you are selling women's necklaces, you can join up with a store that is selling women's earrings and refer customers to each other.
116. Create groups around your audience
You can create a group around your audience.  This is how some of the Shopify Facebook groups started.    This will help market your business and build relationships with others in your market who can help you.
When Shopify marketing you should target potential customers who need your product (which is ideal), but also market to build a bigger audience that includes your demographics.
117. Review sites
You can add your website to review sites.    There are many industry-specific review sites and general review sites.    Search for ones in your market and share your reviews on them.
Researching your biggest competitors is a great way to find this, you will often find they have submitted to review sites and you can do the same.   
118. Keywords
Keywords are words that someone would use to find your store and product.   Using the right keywords is critical in all of your Shopify marketing.  No matter where you are doing Shopify marketing, keywords are how someone finds you.    The keywords should be in your title, top of the description, and tags.
You can use Google Keyword Planner to see what is searched for on Google.    The internet works on keywords, so it is important that you are using the correct ones and a lot of them.
I look at longtail keywords.  So I have my main keywords, then I have secondary keywords (these are specifics to your product) and then I have to join words (these explain the product).
Example – Lets say I am selling necklaces.
Keyword – Necklace
Secondary Keyword – gold, name, diamond
Joining words – best, quality, nice, chain
It is harder to compete for top positions on google and something like necklace is generic so you may get the traffic you do not want.    Therefore make sure to use main, secondary and joining keywords.   
If someone types in "best gold necklace" I have a better chance than  someone who types in "necklace"
Business Tip – No one cares about your company name when starting out.   Unless you have a loved brand with followers, your company name should not be your keyword.    It is already in your post and all over the place, so people who search can find it, however people care for what they are looking for and not your company.
That is 118 Powerful E-commerce marketing, you got a lot of Shopify marketing ideas to start bringing traffic to your store.    I have left both ideas that have worked and not worked for me here since each business is different and I really hope this helps bring you more traffic and sales.   If you got value from this, please share it on E-commerce store communities to help others in Shopify marketing.